Tropical Chem-Dry provides professional carpet cleaning, tile cleaning, and area rug cleaning in the Treasure Coast area. Our industry-leading cleaning processes are designed to make your home cleaner and healthier. We can also add a hospital-grade sanitizer that is effective against a broad spectrum of bacteria, viruses, and allergens, leaving you with a cleaner home.
Providing professional cleaning services to our customers in Sewall's Point, Stuart, Port St Lucie, Hobe Sound, Palm City, Vero Beach, Sebastian, Indiana River Shores, Orchid Island, Ft Pierce, Hutchinson Island, Lakewood, White City, and River Park, St Lucie West and Tradition.
Tile & Grout Cleaning - Clean, Protect, & Seal
There is no need to spend all day on your knees scrubbing grout with a toothbrush. Instead, call the tile and grout cleaning experts at Tropical Chem-Dry. Our powerful cleaning service blasts away dirt and grime from tile allowing it to look like new. An independent lab found that our tile and grout cleaning process with a sanitizer removes an average of 98.6% of bacteria*. So when we clean your tile, you can rest assured that it will look great and be incredibly clean.
Call for a free quote: (772) 621-7182
Disinfecting & Sanitizing with up to 90 Days Protection™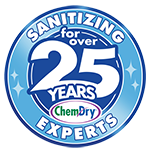 In today's world, we know that a safe and healthy environment in your home or business is more important than ever. That's why Tropical Chem-Dry now offers our new MicroPro Shield service. to give you the peace of mind that your home is healthier and safer for longer.
Our professionally-trained technicians will treat the surfaces of your home or business with an EPA-registered disinfectant - disinfecting both hard surfaces and sanitizing soft surfaces.
Using state-of-the-art electrostatic equipment, our technicians apply a protective antimicrobial coating to surfaces that were disinfected, inhibiting the growth and spread of microbes (bacteria and algae) on contact for up to 3 months.2
How does it work?
This patented technology creates a layer of spikes on surfaces that mechanically kill these microbes by piercing and rupturing their cell membranes on contact, thereby inhibiting the ability for superbugs to grow.
You can count on Tropical Chem-Dry to provide:
Safe, effective and quick disinfecting services
Professionally-trained technicians following CDC-recommended protocols and use of appropriate PPE
Use of disinfecting solutions free of harmful chemicals and safe for food contact surfaces